Ingredients:
375mL Beans ( Navy )
2 Medium Carrots Sliced in Rounds.
1-2 Whole Celery( Stalks )
1 Batch Celery ( Leaves ) Coarsely chopped.
180mL Oil ( Olive )
2 Medium Onions ( White )Finely Chopped.
1-2 Pinch Pepper To Taste.
2-3 Pinch Salt To Taste.
2 Medium Tomatoes Finely Chopped.
Servings: 8
Method:
Soak the beans in water overnight.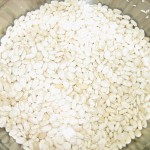 Drain and put in a pot with about 7 cups of cold tap water.
Add the vegetables and boil for about 1 hour or until beans and vegetables are tender.
After about 50 minutes, add the oil, salt and pepper.