GARIDES PILAFI ME KARI
A strange and very un-Greek recipe, since this unusual dish has existed in Ithaca for the last three decades. It is the product of two historical forces—the British domination of the island from the end of the nineteenth century to the middle of the twentieth and the economic circumstances that forced husbands, brothers, and sons to take to the seas as merchant marines. The British brought with them their beloved  curries from India, and the ever-flowing tide of returning sailors who encountered the spice mix in their own travels brought it back to the island, too. Both helped give curry a permanent place in the larder of every island cook. This dish is also made with lobster in Ithaca.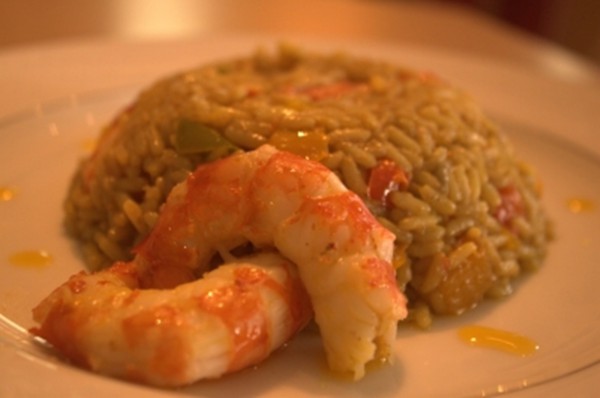 Ingredients:
Makes 4 to 6 servings
3 tablespoons unsalted butter
1 tablespoon extra-virgin olive oil
2 medium red onions, finely chopped
2 garlic cloves, minced
4 teaspoons curry powder
2 cups peeled, seeded, and chopped plum tomatoes (canned are fine)
1 cup dry white wine
Salt and freshly ground black pepper to taste
1 teaspoon sugar (optional)
4 cups water
2 cups long-grain rice
2 1/2 pounds medium shrimp, cleaned and deveined
Method:
1. In a large skillet, heat 1 tablespoon of the butter and the olive oil over medium heat and cook the onions, stirring until soft, 5 to 7 minutes. Add the garlic, stir it for a minute, then add the curry and stir with a wooden spoon for 1 minute. Add the tomatoes, bring to a boil, and pour in the wine. Season with salt and pepper and sugar if necessary. Reduce the heat to a simmer and cook, covered, until the sauce thickens, 15 to 20 minutes.
2. Meanwhile, prepare the rice: Bring the water to a boil, salt lightly, and add the rice. Reduce the heat to medium-low and simmer, partially covered, until the water is absorbed and the rice tender, 15 to 20 minutes. Toss the rice with the remaining 2 tablespoons butter. You can prepare it ahead to this point.
3. About 5 minutes before serving, add the shrimp to the sauce and cook until bright pink. Serve the sauce over the rice on a serving platter or on individual plates.