LEFKADITIKI POULENTA
Greek cornmeal is usually a coarse grind, which is what I recommend in the recipe that follows. The ratio of water to cornmeal varies depending on the final texture one wants to achieve. In the old Greek dishes, the cornmeal was cooked to a medium consistency, which means a 4:1 ratio of water to cornmeal.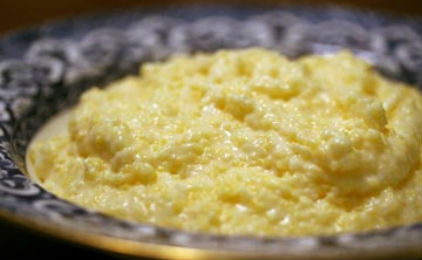 Makes 6 servings
Ingredients:
1/2 cup extra-virgin olive oil
4 to 6 garlic cloves, to taste, very finely chopped
2 quarts water
1 tablespoon salt
2 cups coarse stone-ground yellow cornmeal, preferably organic
2 tablespoons unsalted butter, melted
Method:
1. Heat 2 tablespoons of the olive oil in a small skillet over medium heat and cook the garlic until soft but not browned, about 3 minutes. Remove from the heat and set aside.
2. Bring the water and salt to a boil in a large saucepan. Add the cornmeal slowly, in a very thin stream, keeping the heat high enough so that the water continues to boil. Stir the cornmeal with a large, long whisk the entire time you are pouring it in. Once it has been incorporated, pour in 1/4 cup of the olive oil and add the cooked garlic. Reduce the heat to low and keep stirring the mixture with a wooden spoon until it is thick and creamy, 30 to 40 minutes. When the mixture begins to pull away from the pot, it is ready. Serve immediately, drizzled with the remaining 2 tablespoons olive oil and the butter.
Notes:
Polenta from Ithaca (Ithakiani Poulenta): Prepare the polenta as directed, but omit the garlic. In a separate skillet, heat 2 tablespoons of butter or olive oil and cook 2 finely chopped red onions over medium heat, stirring, until they are very soft, 5 to 7 minutes. Place 1 cup seedless dark raisins in a bowl with warm water to cover for 10 minutes, to plump, then drain. Combine the raisins and onions with the polenta as it is cooking and serve the same way.
Sweet Polenta with Grape Must or Honey (Poulenta me Petimezi): Prepare as directed, but omit the garlic. Once the polenta is ready, spread it on a plate to serve and drizzle with either petimezi, which is available in Greek and Middle Eastern food shops, or with honey or molasses.