KEFALONITIKI KREATOPITA
This recipe, from native Cephalonian Roussa Meleti, originally appeared in my first book, The Food and Wine of Greece.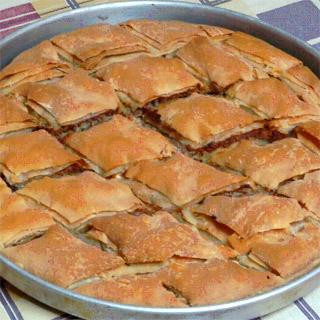 Makes 8 to 10 servings
Ingredients:
5 tablespoons extra-virgin olive oil, plus extra for brushing
1/2 pound boneless lamb, trimmed of fat and cut into 1/2-inch pieces
1/2 pound lean boneless pork, cut into 1/2-inch pieces
1/2 pound lean boneless beef, cut into 1/2-inch pieces
2 large onions, finely chopped
3 cloves garlic, minced
1/4 cup medium-grain rice
1 1/2 cups peeled, seeded, and chopped tomatoes (canned are fine)
1/2 teaspoon ground cinnamon
1/2 teaspoon freshly grated nutmeg
1/2 cup water
1 large egg, lightly beaten
1/2 cup grated kefalotyri cheese or any hard yellow cheese

Salt and freshly ground black pepper to taste

1/2 cup chopped fresh flat-leaf parsley

1 recipe Afrato phyllo, or commercial 

phyllo, at room temperature
Method:
1. Heat 3 tablespoons of the olive oil in a large, heavy skillet over medium-high heat and brown the meats, in batches if necessary. Remove from the heat and let cool enough to handle. Shred the meats by hand.
2. Add the remaining 2 tablespoons olive oil to the skillet and cook the onion over medium heat, stirring, until translucent, about 10 minutes. Add the garlic, then the rice, and stir for 1 to 2 minutes. Add the tomatoes, cinnamon, and nutmeg and stir together. Add the water, reduce the heat to medium-low, and cook the mixture until most of the liquid has been absorbed, about 10 minutes. Remove from the skillet and let cool.
3. Preheat the oven to 350°F. In a large bowl, combine the meat mixture with the egg, cheese, salt, pepper, and parsley. Oil a 15-inch-round baking pan that is 2 inches deep. Divide the phyllo into 4 equal balls. Lightly flour your work surface and roll out the first ball into a circle slightly larger than the pan. Place it in the pan and brush it generously with olive oil. Do the same with the next ball. Spread the filling evenly over the phyllo, then roll out and layer the remaining 2 phyllo balls the same way, brushing each generously with olive oil. Join the top and bottom edges by pinching them together and roll around the pan to form a thick rim. Score the pie into diamondshaped wedges or into squares without cutting all the way to the bottom of the pie and bake until golden, about 50 minutes. Let cool for at least 35 minutes before cutting. Serve warm or at room temperature.
Notes:
You may reduce the ingredients by half and bake the pie in an 8-inch or 10-inch round or square pan.
The pie may also be made with commercial phyllo. For every sheet of homemade phyllo use 3 to 4 sheets of commercial phyllo.