BAKALIAROPITA TIS ITHAKIS
Makes 8 to 10 servings
Codfish pies are found throughout the Ionian Islands. The Ithacan version includes both rice and cubed potatoes, testimony to the fact that this originated as poor man's food, a dish that needed to be as filling as possible. Cod pie is a classic Lenten dish not only in Ithaca but in Cephalonia and in Corfu too, where it is also sometimes made with a batter crust, not with the more bread-textured homemade phyllo.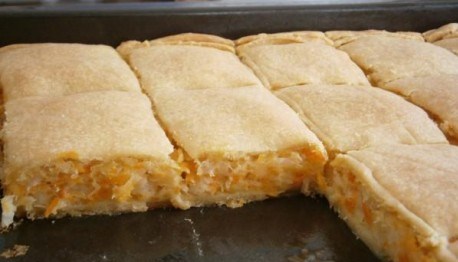 Ingredients:
3 pounds boneless salt cod, trimmed of any excess skin
2 tablespoons extra-virgin olive oil, plus extra for brushing
1 large yellow onion, chopped
1/2 cup short-grain rice
2 medium waxy potatoes, peeled and cubed
1 1/2 cups peeled, seeded, strained, and chopped plum tomatoes
4 to 6 garlic cloves, to taste, chopped
2/3 cup chopped fresh flat-leaf parsley
Freshly ground black pepper to taste
Salt to taste
1 recipe Basic Homemade Phyllo Dough or commercial phyllo, at room temperature
Method:
1. Rehydrate cod and break apart into large pieces.
2. Bring 2 to 3 inches of water to a boil in a large skillet or saucepan, add the cod, reduce the heat to medium-low, and poach the cod just until it becomes slightly pearly, about 5 minutes. Drain, reserving the water. Shred the cod.
3. Heat the olive oil in a skillet and cook the onion over medium-low heat until wilted, 5 to 7 minutes.
4. In a large bowl, combine the cod, onion, rice, potatoes, tomatoes, garlic, parsley, and pepper. Taste the filling before adding salt, since the cod is
naturally salty.
5. Preheat the oven to 375°F. Oil a 15-inch round or square pan that is about 2 inches deep. Divide the phyllo into 4 balls. Lightly flour a work surface and roll out the first ball into a circle slightly larger than the pan. Place it in the pan and brush it generously with olive oil. Do the same with the next ball. Spread the filling evenly over the phyllo and pour in 1/2 cup of the reserved poaching liquid. Roll out the remaining 2 balls of phyllo and cover the pie with them, brushing each with oil. Trim the top and bottom edges if necessary and fold them in decoratively to create a rim. Make several incisions in the top of the pie and bake until golden brown, about 50 minutes. Let cool for at least 30 minutes but preferably 40 to 45 minutes before cutting. Serve warm or at room temperature.
Notes:
Cod pie exists in several variations throughout the Ionian Islands. Sometimes it is made with stockfish, which is air-dried (as opposed to salt-cured) cod. Cheese may be added, as it is in both Cephalonia and Corfu. Try the same recipe with the addition of cubed graviera or grated kefalotyri cheese, but adjust the seasoning; with cheese, the filling does not need any salt.
You may reduce the ingredients by half and bake the pie in an 8-inch or 10-inch round or square pan.

The pie may also be made with commercial 

phyllo. For every sheet of homemade phyllo use 3 to 

4 sheets of commercial phyllo.