RIGANATHA APO TIN LEFKADA
This is another simple bread snack that was the traditional afternoon meal among field hands and farmers in Lefkada. Islanders will tell you proudly that riganatha isn't made anywhere else in Greece, and they are right. Unique to this dish is its dressing—rose water vinegar.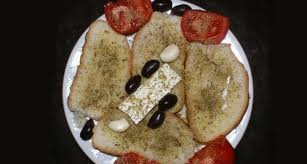 For the rose water vinegar: The traditional way of making this was to extract the rose essence by placing petals of the flower in a glass jar and letting it stand in the sun for several days. You can try it  only if you have unsprayed garden roses; otherwise, combine 1?4 cup mild red wine vinegar with 2 teaspoons rose water and let it sit for at least a day before using. It's an ersatz version, to be sure; nonetheless the flavored vinegar is also delicious with tender greens and salad.
Ingredients and method:
Slices stale sourdough bread or several whole
wheat or barley rusks
Extra-virgin olive oil
Salt to taste
Dried oregano
Rose water vinegar or any good fragrant red wine
vinegar
Salted sardines
Note:
If using rusks, run them quickly under the tap to dampen slightly, then pat dry, break apart, place on a platter, and drizzle with olive oil. If using stale bread, dampen only if it is extremely hard; otherwise, just drizzle with olive oil. (You don't need to break it apart since it isn't as hard as the rusks.) Sprinkle with salt and oregano and, finally, with a few drops of the rose water or other fragrant vinegar. Serve accompanied by salted sardines.