MELOMAKARONA ME ELAIOLATHO
This is one Peloponnesian version of a traditional Christmas cookie. The region's telltale ingredient, olive oil, replaces butter in this recipe. Sometimes, Greek cooks will do that—replace butter with oil, that is—to transform a sweet into something permissable for fasting. In the Peloponnesos, though, the use of olive oil is the norm rather than the exception.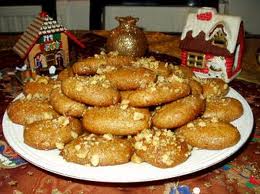 Ingredients:
For the syrup:
1 cup sugar
1 cup honey
1/2 cup water
1 medium cinnamon stick
One inch-wide strip lemon zest
For the cookies:
3 to 31/2 cups all-purpose flour, as needed
1 scant teaspoon baking powder
1 teaspoon ground cinnamon
1/2 teaspoon ground cloves
1 cup extra-virgin olive oil
1/2 cup sugar
1/2 teaspoon baking soda
1/2 cup fresh orange or lemon juice
1/4 cup brandy
1 cup chopped walnuts
Grated zest of 1 orange
Method:
Make the syrup: Bring the sugar, honey, and water to a boil in a medium-size saucepan. Add the cinnamon and lemon zest and simmer over medium heat for 10 minutes. Let cool completely.
For the cookies: Sift together 3 cups of the flour, the baking powder, cinnamon, and cloves in a small bowl and set aside. In a large bowl, beat the olive oil with the sugar until creamy. Stir the baking soda into the citrus juice and add to the oil-andsugar mixture. Add the brandy, walnuts, and grated zest and continue mixing vigorously until combined. Slowly add the flour to the mixture, beating vigorously with a wooden spoon until a stiff dough forms.
Preheat the oven to 325°F. Lightly oil 2 large baking sheets. One at a time, break off pieces of dough the size of an unshelled walnut and shape into a small, mounded oblongs. Place 1 inch apart on the baking sheets and bake until lightly browned, about 20 minutes. Remove from the oven and submerge in the cooled syrup to soak for a few minutes. Drain them, if desired, on racks. v Olive Oil–Fried Melomakarona from Neapoli: Prepare the recipe as directed. Shape the melomakarona into small, oval mounds, about 1 inch long, and deep-fry in very hot olive oil. Remove when golden with a slotted spoon, drain on paper towels for about a minute, then submerge in the same syrup.