GLYKOPATATES BOURTHETO
Sweet potatoes probably came to Corfu with the Venetians, as did many other New World crops, sometime during the sixteenth century, where they remained poor man's fodder for hundreds of years. It took the English to popularize them, by showing Corfiote aristocrats the virtues of serving them with syrup. Nevertheless, they have long been cooked on a grill or in a pan in the classic Greek way, with olive oil and garlic. Roasted sweet potatoes were the classic accompaniment to Christmas turkey. There is also one great old recipe for sweet potatoes cooked with onions and cayenne, in a countryside rendition of
bourtheto.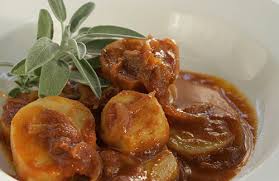 Ingredients:
3 tablespoons extra-virgin olive oil
2 large red onions, peeled, halved, and thinly sliced
2 garlic cloves, finely chopped
1 heaping tablespoon sweet paprika
1 teaspoon cayenne pepper, or more or less to taste
1 tablespoon tomato paste
3 pounds sweet potatoes, peeled and quartered lengthwise
1 cup dry white wine
Salt and freshly ground black pepper to taste
Method:
1. Heat the olive oil in a large, heavy skillet and sweat the onions and garlic over low heat, covered, until softened, 5 to 7 minutes. Add the paprika, cayenne, and tomato paste and stir with a wooden spoon for about a minute.
2. Add the sweet potatoes and stir for another minute. Pour in 1/2 cup of the wine and enough  water to barely cover the potatoes. Bring to a gentle boil, lower the heat to medium-low, and simmer, covered, until the sauce is thick and dark, about 15 minutes. Season with salt and pepper.
3. Add the remaining 1?2 cup wine, cover the pot, and simmer until the potatoes are very tender, another 10 to 15 minutes.
4. Remove from the heat, let stand for about 5 minutes, and serve.