KOURAMBIETHES ME ELAIOLATHO APO TO LEVITHI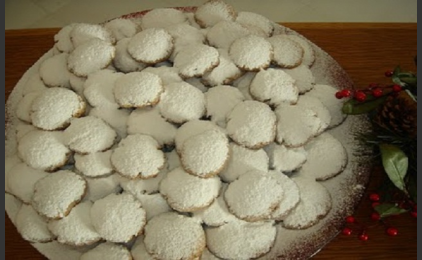 Makes about 72 shortbread cookies
Ingredients:
2 cups extra-virgin olive oil
2/3 cup granulated sugar
1/3 cup ouzo
1/2 teaspoon baking soda dissolved in
2 tablespoons fresh lemon juice
1 cup finely chopped walnuts
Grated zest of 1 lemon
1 teaspoon ground cinnamon
4 to 5 cups all-purpose flour, as needed
3 to 4 cups confectioners' sugar for dusting
Method:
Preheat the oven to 350°F. Using an electric mixer set at high speed, whip the oil with the sugar in a large bowl until smooth. Add the ouzo, the dissolved baking soda, and mix well. Add the walnuts, zest, and cinnamon and mix vigorously with a wooden spoon. Add 3 cups of the flour, a little at a time, mixing by hand or with a wooden spoon until a dough begins to form. Keep adding and kneading in the flour in 1?2-cup increments until the dough is tight, firm, and smooth, 10 to 15 minutes.
Line several lightly greased cookie sheets with parchment. Take a little piece of dough about the size of an unshelled walnut and shape it into a mounded oblong. Place on the cookie sheet. Continue until all the dough is used, setting the kourambiethes about an inch apart on the baking sheet. Bake until very light golden, 10 to 12 minutes. Let cool on wire racks, then place on a serving platter
and sift the confectioners' sugar over them. Store in cookie tins and keep in a cool, dry place. They will keep for up to two weeks.