Sharlotta is a light, cool, refreshing, welcoming and nutritious desert. It's a very popular desert on a hot summer evening in Cyprus, when people sit in their gardens or verandas enjoying the jasmine-scented breeze.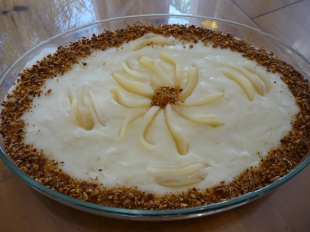 The name is French and somehow found its way into the Greek culinary vocabulary. Remember that in the 19th and early 20th centuries, French was popular in Greece and a lot of French words were incorporated into the Greek language in the same way that we now find English words doing the same.
Sharlotta has always been a very popular Sunday family desert. Housewives used to save leftover home baked cakes and use them as a base instead of sponge fingers, which, by the way, did not exist then in Greece and Cyprus!
So this delicious and economical desert was prepared and enjoyed by the extended families – and as soon as foreigners try it they always add it to their list of favourite recipes!
Nowadays, with the abundance of deserts available in the market, Sharlotta's popularity has diminished especially among the young people. Although some cafes and hotels are beginning to offer it served in individual, elegant glasses, thus bringing back the lost grandmothers' specialties!
Serves 12
Ingredients:
460 tinned pears in their syrup
400g sponge fingers
2 tbsps rose water
1 tbsp brandy
1 cup almonds, roasted and coarsely chopped
For the custard, or 'krema':
8 cups milk
1 egg
8 heaped tbsps corn flour
1 cup sugar
2 tbsps rose water
3 cloves
1 small cinnamon stick
Half tsp grated organic lemon peel
Method:
Roast the almonds in a non-stick pan on a low heat, until golden brown
Once they've cooled, chop them coarsely
Pour the syrup from the pears in a deep bowl together with the brandy and rose water
Dip the sponge fingers briefly in the syrup. Don't let them soak!
Lay the sponge fingers in rows along the base of a deep serving dish. Cover the whole base
Cut the pears into small almond-sized chunks, leaving two half pears for
decoration on top
Place the cut pear pieces on top of the sponge fingers
Sprinkle ¾ of the roasted almonds on top of the pears
Custard, or 'krema'
Mix 1 cup cold milk with 8 heaped tbsps corn flour in a small bowl. Add 2 tbsps rose water and 1 lightly beaten egg. Mix well.
In a saucepan, mix 7 cups milk with the cloves, the cinnamon stick, the grated lemon zest and 1 cup sugar. Heat it up until just before the milk rises. Remove cinnamon stick and cloves.
Add the dissolved corn flour mixture
Stir vigorously until it starts to thicken. Let it simmer for a few seconds, stirring constantly
Remove the cream from the heat and pour it over the pears and almonds in the pyrex dish
You can decorate by thinly slicing the remaining 2 pear halves, creating a flower design
Take the remaining roasted chopped almonds and sprinkle around the edge of the pyrex dish, creating an almond rim
Let it cool and place in the fridge
Tip: You can prepare this in individual glasses instead of the pyrex dish