Ingredients:
4 kilo cauliflower
1200gr unbaked loaf of bread or sour dough
1/2 a cup of mustard seeds whole
Salt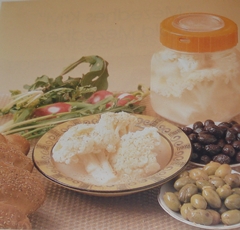 Method:
– Cover the unbaked loaf of bread (which you can purchases from a baker shop) with a kitchen towel for about 4-5 days until it turns sour.
– Remove the hard stem from the cauliflower and cut it into florets.
– Wash the cauliflower florets thoroughly under plenty of running water.
– A few florets at a time boil them in hot water making sure they are covered by the water for about 2-3 minutes.
– Continue until all the cauliflower florets are boiled.
– Remove from the hot water and place into a strainer to strain the excess water.
– Place the boiled cauliflower in a large shallow wicker hamper or a baking pan and sprinkle generously with salt while they are still wet and set aside until thoroughly dry.
– Dissolve the sour by now dough with warm water until a medium thick batter is formed.
– Grind the mustard seeds and mix well with the medium thick batter you just made.
– Dip the cauliflower one floret at a time into the batter mixture and place into clean and dry glass jars.
– Pour the remaining batter mixture into the jars making sure that it covers the cauliflower completely.
– Store away for approximately 5-6 days shaking the jars every day as the batter settles to the bottom of the jar.
– After 5-6 days the Moungra is ready to eat.
– Take some florets out of the jar (shaking it first), place in a plate, cut in smaller pieces, pour some olive oil over it and serve.
– Moungra is usually made and served during fasting days but it can also be used as an appetizer or as a side dish.
– Moungra is a very popular Cypriot dish served in restaurants and sold in stores by the jars ready to be consumed.