MELITZANES SKORDOSTOUMBI – Μελιτζάνες σκορδοστούμπι
This simple dish is a paean to the robust flavors that mark so much of Greek and Ionian—cooking. Garlic and vinegar are a combination we find on country tables all over Greece, but usually it is one reserved for seasoning meat. Its use here with eggplant is what makes it unique.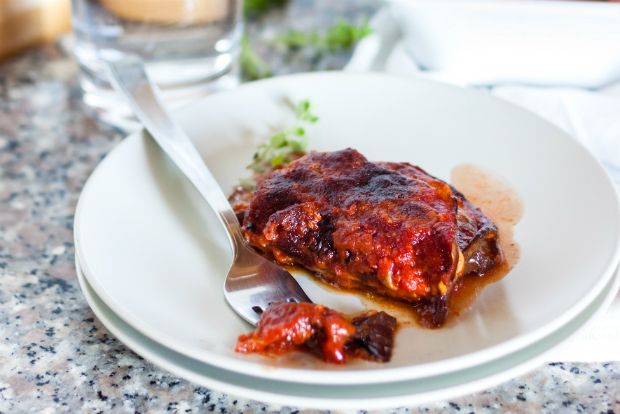 Makes 4 to 6 servings
Ingredients:
2 large or 3 medium eggplant (about 2 pounds total), sliced into 1/2-inch-thick rounds
Salt to taste
1/2 to 2/3 cup extra-virgin olive oil, as needed
8 to 10 garlic cloves, to taste, peeled and crushed
4 to 5 large tomatoes, to taste, grated
Freshly ground black pepper to taste
3 tablespoons sherry vinegar or red wine vinegar,
or to taste 1 teaspoon sugar (optional)
Method:
1. Place the eggplant slices in layers in a colander, salting each layer lightly. Place a plate and a weight on top of them and leave to drain for 1 hour. Rinse and pat dry.
2. Heat 2 to 3 tablespoons of the olive oil in a large, heavy skillet over medium-high heat and lightly brown the eggplant slices on both sides, inbatches, replenishing the olive oil if necessary. Drain on paper towels.
3. Preheat the oven to 350°F. Heat 2 tablespoons olive oil in another large skillet and cook the garlic over medium heat, until soft and lightly browned, about 10 minutes. Add the grated tomato pulp and season with salt and pepper. Add the vinegar and adjust the seasoning after a few minutes by adding a little sugar if the sauce is too acidic. Simmer, uncovered, over low heat for 10 minutes.
4. Lightly oil a 10-inch square ovenproof glass or ceramic baking dish. Place the eggplant slices in layers in the dish and pour a little of the sauce over each layer, reserving a bit for the top. Sprinkle the top with a few more drops of vinegar. Bake until the eggplant is tender and the sauce thick, 40 to 45 minutes. Serve hot, lukewarm, or at room temperature.