Enough pastry for a 15-inch or 18-inch round pan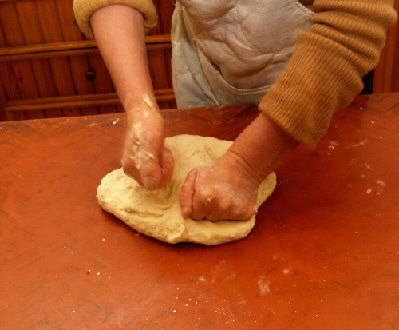 Ingredients:
4 to 4 1/2 cups all purpose flour, as needed
1 scant teaspoon salt
1 1/2 cups warm water, or more if needed
1/4 cup extra-virgin olive oil
2 tablespoons red wine vinegar or fresh lemon juice, as needed
Method:
Combine 4 cups of the flour and the salt in a large mixing bowl and make a well in the center. Add the water, the olive oil, and the vinegar or lemon juice. Work the flour into the liquid with a fork, until a dough begins to form, then knead it in
the bowl, adding a little more flour or water if necessary, for about 10 minutes. The dough should be silky, pliant, and smooth. Cover and let rest at room temperature at least one hour before using. Follow the directions for making the individual savory pies.
All homemade phyllo may be stored in the refrigerator in an airtight bag for up to three days. Bring it to room temperature before using.
Notes:
Phyllo dough may also be made in a kitchen mixer fitted with a dough hook.