GALOPOULA AVGOLEMONO
Sometime after the sixteenth century, turkey arrived in Corfu from the West. There is some disagreement as to who first brought it. If its name is any indication, then the turkey came with the French, since its name in Greek, galopoula, translates literally as "French bird." Regardless of its provenance, today it is still the Christmas meal in Corfu. In fact islanders distinguish between the male and female birds. The female turkey is turned into avgolemono soup, while the male is stuffed (either with pasta or with bread) and roasted with potatoes. The turkey would not be complete, though, without the candied fruit-filled mostarda dolce, or sweet mustard, which almost certainly came with the Venetians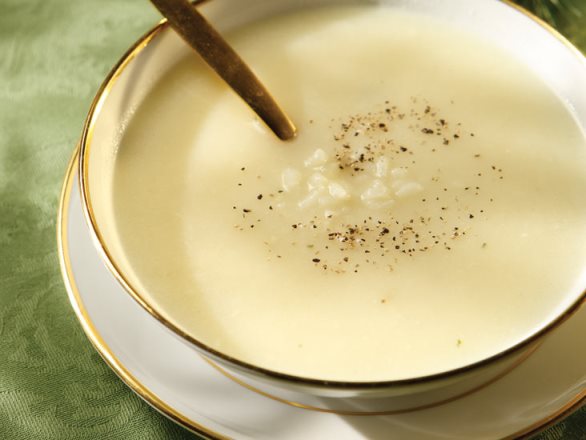 Makes 8 to 10 servings
Ingredients:
1 turkey carcass, divided into several large pieces
3 quarts water
2 large carrots, peeled
1 large onion, peeled
2 celery stalks
2/3 cup short-grain rice
2 cups peeled, seeded, and diced firm, ripe tomatoes
Salt and freshly ground black pepper to taste
3 large eggs, separated
Juice of 2 lemons, or more to taste
1/2 cup grated kefalograviera cheese or any hard yellow cheese
Method:
1. Preheat the oven to 450°F. Place the turkey carcass on a large sheet pan and place in the oven. Leave for 10 minutes, then reduce the oven temperature  to 375°F. Leave the carcass in the oven until browned, another 30 to 40 minutes. Remove from the oven and let cool.
2. Place the bones in a large stockpot with the water. Bring to a boil, then add the carrots, onion, and celery. Reduce the heat to medium-low and simmer for about 2 hours, skimming the foam off the top. Strain the broth through a fine-mesh sieve and discard the bones and vegetables. Return the broth to the pot, add the rice and tomatoes, and season with salt and pepper. Simmer until the rice is tender, another 20 minutes, then turn off the heat.
3. Meanwhile, make the egg-lemon sauce: Beat the egg yolks in a large bowl until pale and creamy. Beat in the lemon juice. Whip the egg whites separately in a medium-size bowl with an electric mixer until stiff peaks form. Fold the whites into the yolks. Slowly pour a ladleful of the hot broth into the eggs, whipping all the while with a wire whisk to temper them. Do this with several ladlesful of the soup. Pour the eggs into the stockpot, stir well, and serve immediately, topped with the grated cheese. Squeeze in more lemon juice if desired when the soup is served.